We offer car maintenance for those in Denver who want to avoid extensive repairs.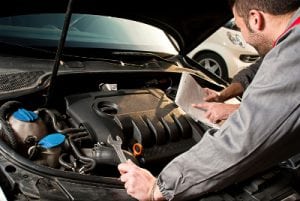 Nobody enjoys facing extensive repair issues on their automobile, and at Highway Tire Auto & Lube, we understand that as long as we keep car maintenance easy, you can avoid many of them. One of the ways we do that is perform a full inspection at your request when you come in for regular car maintenance. That oil change is something you already know to take care of, but at the same time, we can check the brakes, perform wheel alignment, rotate the tires, check the transmission, and run diagnostics on the engine. When you bring in your vehicle, be sure to ask us about the other car maintenance items that we recommend be done given the age and mileage on your vehicle.
If you are worried that the extra attention will take more time than you can afford to spend here, just let us know, and we'll shuttle you to work, home, or another local address. When your vehicle is ready, we'll come back to get you or drop your vehicle off for you. In fact, we'll come pick it up for you, too, if need be. We make it easy, so not having the time to spare doesn't keep you from getting the car maintenance you need to avoid extensive repair issues.
We welcome you to call us about any of our car maintenance services. We'll be happy to give you a quote over the phone for most of our services. Our family-owned and operated service center has been serving the Denver, North Carolina area for more than 15 years, and we are confident that you'll see what makes us different than the rest when you come in for car maintenance.

---
At Highway Tire Auto & Lube, we offer high-quality car maintenance services to residents of Mooresville, Denver, Sherrills Ford, Terrell, Lake Norman, and Lincolnton, North Carolina.