Our technicians are available six days a week to provide car maintenance services for residents of Terrell, NC.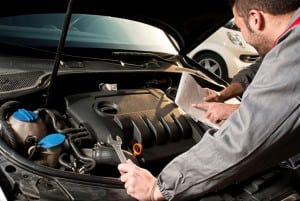 Some drivers are harder on their cars than others. Those who drive longer distances to and from work or school each day or drivers who use their personal vehicles for deliveries tend to need car maintenance more often. The schedule for changing the oil in a car typically hinges on the mileage, so longer commutes mean more regular oil changes.
Other car maintenance services that shouldn't be skipped include brake checks and wheel alignment services. If your brake pads wear thin and metal is rubbing against metal, you will typically hear a grinding sound when you brake. By the time you hear this sound, it could be too late, and the safety of your car may be compromised. Having your brakes checked regularly minimizes the risk of not being able to stop. Wheel alignment ensures that when you turn the steering wheel, your wheels go with it. Without proper alignment, the chances of being in an accident are much higher.
Our technicians at Highway Tire Auto & Lube are available Monday through Friday from 8:00 a.m. until 5:00 p.m., and Saturday from 8:00 a.m. until 12:00 p.m. to provide car maintenance services. Stop into our shop in Terrell, North Carolina, and talk to our team about what your car might need to run more efficiently. As a truly family-owned and operated business, we take pride in offering excellent service. Even our family dog, Charlotte, spends time in the shop with her owners, so feel free to say hello!
---
At Highway Tire Auto & Lube, we offer high-quality car maintenance services to residents of Mooresville, Denver, Sherrills Ford, Terrell, Lake Norman, and Lincolnton, North Carolina.