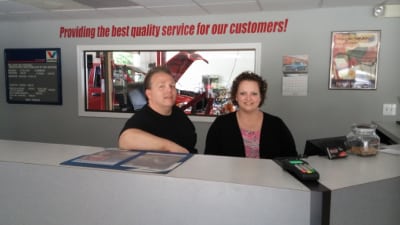 As the owners of Highway Tire Auto and Lube, the Anderson family understands the value of loyalty. We plan to own and operate our business for several years to come. We hope to hand this business over to our children. We are loyal to our customers and hope our customers can be loyal to us. This will require us to develop and maintain the best relationship with our customers.
We have heard the stories about repair shops taking advantage of their customers. We do our best to keep costs as low as possible for our customers. We know our customers want to feel comfortable with their repair shop. We believe the customer should have access to their technician for questions and advice. We will be available.
Since Highway Tire Auto and Lube is not a franchise repair shop, we have lower operating costs and therefore can be the most competitive shop for our customers. Our technicians have over 55 years of automotive repair experience among them. They carry multiple certifications and have great overall general vehicle knowledge. But, all that means nothing without honesty. Honesty is the backbone of any business. If you ask for our opinion, be prepared– you might just get it. We will do our best to provide our customers with all the information needed to make an educated decision about needed repairs.
We promise to you, the customer that we care about you and your vehicle needs. We promise we will keep our prices as competitive as we can. We promise we will do our best to understand your concerns and resolve any issues that may arise. We promise to do our best for you, the customer. If you have multiple estimates for a repair and find they vary in price, we will do our best to explain why. You might just find there is a better value with us.
Whether your vehicle needs an oil change, inspection or an engine replacement, our goal is to provide you, the customer with the best quality service, the best value and the best experience.
We promise,
The Andersons
Highway Tire Auto and Lube