If you opt for a low-quality auto repair shop near Sherrills Ford, you will certainly get what you pay for, which is why we focus on quality.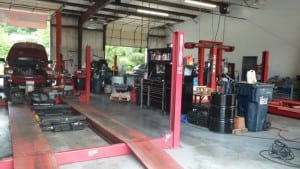 When it comes to choosing the right auto repair shop in the Sherrills Ford, North Carolina area, you have options. Some shops promise low prices, but skimp on the quality of the work. Other shops guarantee to have you in and out in a short amount of time, but may not give your vehicle the attention it needs and deserves. As you cruise around in your car, whether you are dropping the kids off at school, heading to work, or running errands, it is important that all components of your vehicle are working properly to keep you and your loved ones safe. If you opt for a low-quality auto repair shop, you will certainly get what you pay for. But quality matters in auto repairs, which is why our team at Highway Tire Auto & Lube focuses on doing the best job.
We are a family-owned and operated business, and each of our staff members cares about the needs of every customer who walks through the door. We make sure each customer has a positive experience by offering high-quality work and convenient touches, like complimentary rides in the area and vehicle pick-up.
Our employees also understand the pressure and stress that can come along with needing an auto repair and wondering whether it is truly necessary. At our auto repair shop, we won't pressure you. Instead we talk about options and help you understand why we recommend specific services. Stop by and see us today to find out how we are different from other shops.
---
At Highway Tire Auto & Lube, our auto repair shop proudly serves residents of Sherrills Ford, Lake Norman, Mooresville, Denver, Lake Norman, Terrell, and Lincolnton, North Carolina.