Brake repair in Lake Norman is a service that should never be put off.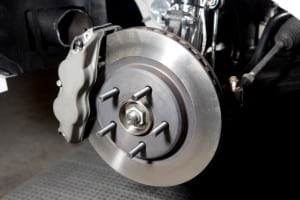 Within every single vehicle on the road, whether it is a subcompact sedan or 20-passenger van, the brake system plays a very important role. When you apply the brakes, your car has a reserve of brake fluid that provides friction, slowing the car to a stop. Some newer cars even feature an emergency braking system that kicks in when the car senses something in its path either up ahead or while in reverse. No matter what type of car you drive, it is important to make sure that your brakes are always working correctly.
Brake repair is a service that should never be put off. If you notice a grinding or squeaking sound when you press the brake pedal in your vehicle, bring it right in to our team at Highway Tire Auto & Lube. We provide brake repair service to customers in the Lake Norman, North Carolina area. Some repair services are minor and can be done quickly while you wait, while others require more extensive work. If we do need to keep your car for a longer period of time, we can give you a ride home so you don't have to wait around. That is just one way that our shop is different from others – we focus on the customer first.
If you aren't sure if your car needs brake repair service, feel free to stop by, and our technicians can check it out. It's always better to be safe with brakes because if you wait too long, you could put yourself, your passengers, and other drivers on the road at risk.
---
At Highway Tire Auto & Lube, we offer high-quality brake repair services to residents of Sherrills Ford, Lake Norman, Mooresville, Denver, Terrell, and Lincolnton, North Carolina.