Let us take care of your brake repair, so your excursions around the Denver area don't end in an accident.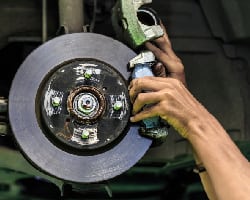 Of all the components of your vehicle, its braking system is one of the most vital in terms of safety for you, your family, and others on the Denver, North Carolina area roads. That is why one of the services we offer here at Highway Tire Auto & Lube is comprehensive brake repair. The tough part about brakes is that it can be easy to overlook the symptoms that a problem is looming. That is why we recommend you have an annual brake check done or have us check sooner if you are experiencing any of the following symptoms:
When braking, you feel the car pull to one side or the other
You hear a grinding or squealing noise when braking
You sense an odd vibration or other feeling emanating from the brake pedal
It seems like it is more difficult to come to a stop than usual
It isn't just for safety that you should come in for brake repair at the first sign of trouble. The longer you wait, the more costly the brake repair can become. If the brake pads have worn completely down, the next component of the system gets damaged, as well, and now you have more than just the pads to replace.
Let our family-owned and operated company help you stay safe with our superb diagnostic and brake repair experience. You can count on us for honest advice about what your vehicle needs to run efficiently, perform its best, and keep you and your family safe.

---
At Highway Tire Auto & Lube, we offer high-quality brake repair services to residents of Mooresville, Denver, Sherrills Ford, Terrell, and Lincolnton, North Carolina.