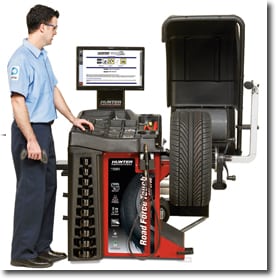 Highway Tire Service & Collision, a family owned automotive service center in Terrell, NC, uses the latest in automotive technology in order to provide its customers with the best service possible.
One important piece of equipment used in the shop is the Hunter Road Force® diagnostic balancer. This machine, combined with their skilled automotive team, makes Highway Tire your wheel vibration and handling control experts.
Maintaining proper wheel balance is important for your vehicle, because excessive wheel vibration can cause premature tire wear, damage to suspension and steering components, and unsafe steering and handling.
The Road Force® measures radial and lateral tire forces and provides instructions for solving ride and handling problems such as tire pull and wheel vibration that balancers and wheel aligners cannot fix.
Road Force® is recognized by vehicle manufacturers and repair facilities worldwide as the industry standard in wheel balancing, tire road force and rim eccentricity measurement, and tire pull lateral force measurement.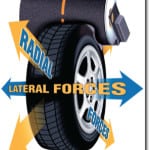 Diagnostic repair capabilities of Road Force®:
solves wheel vibration problems balancers can't fix
faster troubleshooting and repair
identifies potential vehicle pull or drift problems
significantly improves ride quality