Regular car washing involves cleaning and drying the exterior and will keep your vehicle looking its best. Car detailing goes way beyond that and can make your automobile look like new. It takes more time and costs a bit more, but it is well worth it!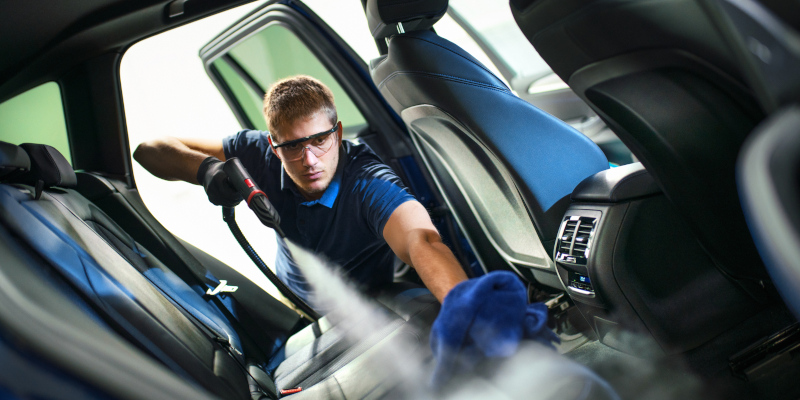 How To Wash a Car
Automatic carwash facilities can be found in many places, but the machinery and chemicals used can damage a vehicle's finish. Hand washing can be better, as long as you use separate sponges for the painted surfaces and wheel wells. We always wash our customers' vehicles by hand before detailing them.
Car Detailing Explained
An auto detailing company can accomplish a lot more than car owners can at home. The outer engine compartment, wheel wells, underbody, and other exterior surfaces will be cleaned. Brake dust on the tires will be attended to, and special chemicals are used on hard-to-remove road tar, bug residue, and bird droppings. And since we're on the topic, it's important to know that bird droppings are acidic; if it's not removed promptly, that mess could eat through your car's paint.
After the car is cleaned and dried, a technician will inspect the paint for damage and dullness. Paint correction may be needed to restore the finish, which might involve touching it up, removing rust, or applying a glaze, wax, or another sealant.
Does Car Detailing Include the Interior?
It makes sense to opt for interior car detailing because the inside should look just as great as the exterior. At Highway Tire Auto & Lube, we spot-treat, vacuum, and shampoo the carpets and wash and treat vinyl, cloth, and leather seats. The glass and windshields are cleaned up, and the dashboard and other surfaces are cleaned and treated with quality products. You won't believe how good the interior of your car looks and smells after we are finished.
Call us today to set up an appointment for customized car detailing.