We can perform various auto maintenance tasks in Terrell, NC, including oil changes, brake service, and tire rotation & balancing.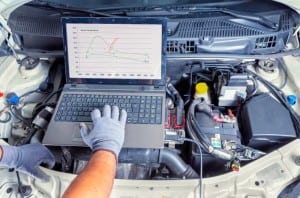 When it comes to driving, most people have their own personal styles. Some drivers use their vehicles to make lengthy commutes to school or work every, while others simply run a few errands here and there and leave the car in the garage most of the time. Most drivers are somewhere in between. Keeping your car up to date with auto maintenance is the best way to ensure that it is safe and drivable whenever you need it. The most common auto maintenance service is an oil change, but the schedule for this can vary. Some newer vehicles use synthetic oil that can last much longer, but it is important to follow the manufacturer's recommendations for your specific car.
There are several other vehicle maintenance services that you should always keep up on to ensure a safe car. Brake service is crucial, since brake pads and other components within the system are not designed to last forever. During a brake service, your technician will look for signs of wear on the brake components and replace any that are worn out. If you wait until there is a problem with the brakes, such as grinding or squeaking sound, it could already be impacting the safety of your vehicle.
Another important auto maintenance service is regular tire rotation and balancing. If you skip this one, your tires may wear unevenly and be more at risk to blow out or go flat. If you have questions about auto maintenance or services available, stop by and see us at Highway Tire Auto & Lube, conveniently located in Terrell, North Carolina.
---
At Highway Tire Auto & Lube, we offer high-quality auto maintenance services to residents of Terrell, Mooresville, Denver, Sherrills Ford, and Lincolnton, North Carolina.