We offer engine repair services for many types of vehicles in the Mooresville, NC area.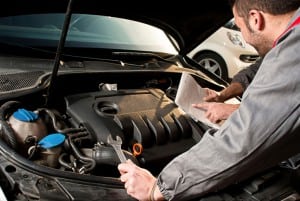 The engine is one of the most important parts of your car, since it provides power and allows you to accelerate. If your engine isn't working properly, this is an issue that needs immediate attention. You might notice strange noises coming from beneath the hood, such as knocking or clanking, and these noises often mean that the engine bearings are wearing out and aren't able to hold up the moving parts. If you have a lot of exhaust smoke, this can also mean you need engine repair, and the color of the smoke will help determine the problem.
Another common problem that often indicates the need for engine repair is a decrease in fuel efficiency. This could happen very quickly or over a period of time, but it is helpful to track your gas mileage to determine if this problem is happening to your car. An engine that needs a lot of time to warm up or that is slow to accelerate when you press the gas might also need repair. At Highway Tire Auto & Lube, we offer engine repair services for many types of vehicles. An engine that is having any of these problems should be checked out as soon as possible, as continuing to drive on a poorly-functioning engine can be dangerous and cause further damage.
We take pride in the fact that our auto repair shop is family owned and operated
Our shop is conveniently located in Terrell, and we offer service to those in the Mooresville, North Carolina area. The technicians in our auto shop provide high-quality service for many different problems or needs your car may encounter while you are on the road.
---
At Highway Tire Auto & Lube, we offer high-quality engine repair services to residents of Mooresville, Denver, Sherrills Ford, Lake Norman, Terrell, and Lincolnton, North Carolina.