We are the best choice for reliable, fair-priced car tires in Mooresville, NC.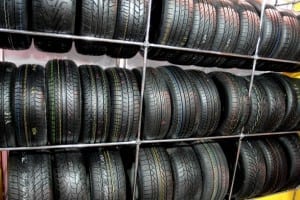 There are a lot of benefits to replacing your car tires regularly. A new set of tires may cost a few hundred dollars, depending on the brand and size of tires you choose, but they are well worth the cost. When you keep your tires rotated and balanced and replace them often, you can reduce the risk of having one of them explode while you are driving. A blowout can lead to loss of control of the vehicle, which may cause an accident. Even if you can get off the road safely, it can be a frightening experience, especially if you don't know how to access or put on your spare tire.
Another benefit of new car tires is improved gas mileage. You do need to check the air pressure in your tires regularly to maintain this benefit, but it is worth the time it takes to do this when you get gas or check other fluids underneath the hood. Most people don't know what type of car tires to choose for their vehicles, so visit us at Highway Tire Auto & Lube to talk to one of our experienced salespeople. Not only can we help you find the right tires for your car, but we can also install them for you.
Highway Tire Auto & Lube carries tires from brands you can trust!
In addition to selling car tires, our team also offers various vehicle services. We can change your oil, check your brakes, and fix your alignment while you wait. Our technicians are also able to perform inspections, so you can renew your registration, or check for potential problems that could decrease the safety and/or performance of your car.
---
At Highway Tire Auto & Lube, we sell car tires to residents of Mooresville, Denver, Sherrills Ford, Lake Norman, Terrell, and Lincolnton, North Carolina.