Signs of wear on ATV tires are the same as what you'll spot on the tires on your car in Denver.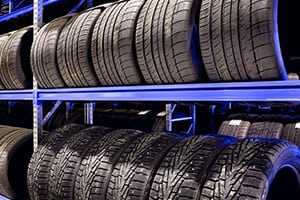 All-terrain vehicles, or ATVs, offer fun outdoor recreation for people of all ages and skill levels. You don't have to know much about the great outdoors to enjoy spending time on an ATV. Instead, you can simply climb aboard and explore your natural surroundings, while feeling the breeze on your face and through your hair. An ATV is a safer alternative to a motorcycle or dirt bike since it can handle all types of terrain but has four wheels, making it less likely to tip over and cause injury. The tires on the four wheels of an ATV are typically more rugged than what you might find on your car since they must be able to go over dirt and mud, as well as help you climb steep hills.
If you have an ATV, you probably know that ATV tires don't last forever. The lifespan of your tires will depend on usage; those who use their ATVs for farming or agricultural tasks might need to replace the tires more often than those who take their ATVs out only a few times per year. Signs of wear on ATV tires are the same as what you'll spot on the tires on your car, including flattened tread, bulging areas, or spots that look smooth instead of rough.
Here in the Denver, North Carolina area, you can find a wide selection of ATV tires at Highway Tire Auto & Lube. The condition of the tires on your ATV can impact the safety of the vehicle, so it's critical to replace them regularly. Contact us today to learn more.
---
At Highway Tire Auto & Lube, we sell ATV tires to residents of Mooresville, Denver, Sherrills Ford, Terrell, and Lincolnton, North Carolina.