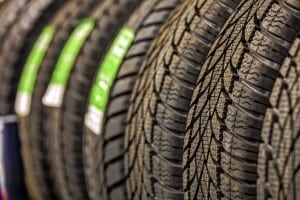 Tires are an often underestimated and intrinsic part of your vehicle. Having good tires can help your car handle better, get better mileage, and complement the aesthetics of your vehicle, so you look as good as you feel when you're driving.
When you're ready to purchase new tires, know the size of your wheel. It may seem silly, but it's a step too many people have forgotten about until far too late. Also essential is knowing what type of vehicle the tires will be used on and what type and frequency of driving will be done with that vehicle. Off-road tires are completely different from road tires and therefore may have a different manufacturer and specifications. Most vehicles will work best with one of two types of tires: high-performance tires and all-season tires.
High-performance tires are usually made of a softer rubber that allows for better traction at high speeds and through corners. Because the rubber of these tires is softer than other types of tires, it wears faster, so these tires have a shorter lifespan than an identical vehicle driven the same way with different tires.
All-season tires are designed to deliver a compromise between a dedicated wet winter tire and a tire designed for use on dry summer roads. Modern manufacturing and design have improved this design to the point where one set of tires is usually the only one that's needed.
For all of your tire and wheel needs, let our team at Highway Tire Auto & Lube show you why family-owned and operated is best for your wallet and your time.