There seems to be a timeline for most everything to do with your vehicle, so it might seem confusing why nobody can tell you a definite time to have a wheel alignment done. The reason is because there are so many factors that affect the suspension system of your vehicle. You could quite literally get a wheel alignment done today and then hit a pothole and be back to needing it done again. It isn't like you can head to your local garage every few days to see if things are still okay, so how can you tell if it is time for a wheel alignment? Here are a few telltale signs to watch for: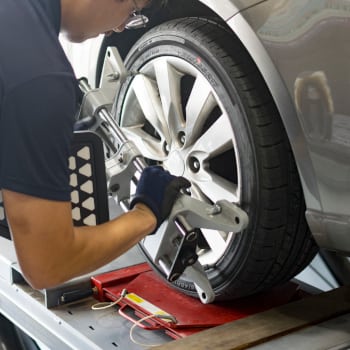 Handling. A small misalignment may not affect handling to a noticeable degree, but if it is more severe, you'll find it challenging to maintain forward movement without holding the wheel firmly. It will feel like your car is fighting you and wants to take you off into the ditch or into the other lane.
Tire wear. Inspect the tires occasionally, watching for excess wear in one area. This can be a sign it is time for a wheel alignment or tire balancing. Either way, you'll want to head to the garage, so you can keep your tires from being worn out prematurely. Squealing tires is another indication.
Steering wheel not straight. Look at where the steering wheel is when you are driving straight. If it not level, you could require wheel alignment service.
If you suspect your vehicle needs a wheel alignment, stop by and see us at Highway Tire Auto & Lube in Terrell, North Carolina. We'll be happy to check out your vehicle and assess if there is a problem. If you have waited a bit too long and you need new tires, we can help you with that as well. If you have any questions, don't hesitate to call us.