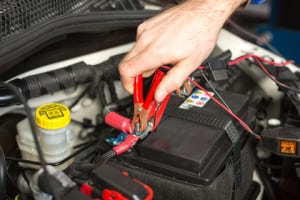 Autumn is a beautiful season in the Carolinas and if you love the outdoors, it is a road-trip lover's dream come true. Whether you are going for the day or for the whole weekend, there is so much to see and do. Your toughest decision will be choosing a destination. The area is known for its beaches, mountains, lighthouses, NASCAR, botanical gardens, amusement parks, biking and hiking trails, museums, and sporting events.
Once you choose a destination, make sure your vehicle is ready for the trip. The U.S. Department of Motor Vehicles suggests you check your vehicle's wiper blades, fluid levels, lights, belts, hoses, and battery before going on a road trip. You should also inspect your tires (don't forget about the spare tire) and make sure you have a car jack. It's also a good idea to schedule any necessary service your vehicle needs such as an oil change and a tune-up.
An emergency car kit can be invaluable if you do break down. Stock your kit with bottled water, granola bars and trail mix, first aid items, rain jacket, blanket, light sticks, flashlight, and pocket knife. Also make sure you travel with a map or GPS, as well as your car insurance info, vehicle registration, and driver's license.
Traveling with kids? Consumer Reports has some ideas to help you with that.
The team at Highway Tire Service and Collision wants you to get out there and enjoy the beautiful but all-too-short Fall season. Have fun and drive safe!