If you need wheel alignment service, bring your vehicle into our shop in the Mooresville, NC area for a free quote.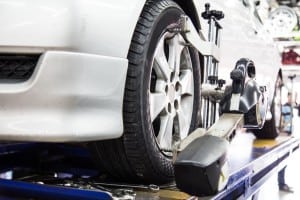 If you are driving down a straight road and notice that your car veers left or right, it is probably time to bring it in for wheel alignment service. When your wheels aren't aligned properly, your tires aren't pointing straight, so it causes the car to pull to one side. Misalignment will also cause your tire tread to wear unevenly, which decreases the life of your tires. The car parts that control the wheels can also be impacted by poor alignment, which means you may not be able to steer properly and could cause a safety hazard on the road. Your car can become misaligned from hitting a pot hole or curb, running into a concrete stall marker in a parking lot, or simply going over a bump at a high speed.
At Highway Tire Lube & Auto, we offer wheel alignment services to those in and around Mooresville, North Carolina. We can work on all types of vehicles of all sizes. We typically recommend having your alignment checked regularly, since this will help prevent problems in the future. Highway Tire Auto & Lube is family-owned and operated, and our family dog even spends time in the shop with us!
Signs You Need a Wheel Alignment
Is it time for a wheel alignment? Here at Highway Tire Auto & Lube, we want to make sure your car runs as safely as possible, and that means having us align your wheels on a regular basis. Here are a few signs it's time to bring your car into our shop for a wheel alignment:
When you drive in a straight line, your car pulls slightly to the left or to the right.
When you inspect your tires, you notice uneven or rapid wear on the tread.
When you hold your steering wheel straight, the car doesn't drive straight.
When you turn or veer in another direction, your tires squeal.
You can't get your car to drive in the right direction.
In most cases, you need a professional to realign your wheels before these issues will go away. However, there are some things you can do to prevent the need for constant wheel alignments. For example, don't keep too much stuff in your trunk. If too much weight loads down your car's back end, it will lower the height of your vehicle and throw off your alignment. You should also make sure your tires have the right level of air pressure and drive conservatively – this will put less strain on your car's steering and suspension components.
If you're not sure if you need a wheel alignment, call us! We're happy to talk through your wheel alignment issue with you and determine if you need one of our professionals to take a look at your car.
If you need wheel alignment service, bring your vehicle into our shop for a free quote. In addition to wheels and tires, we also offer brake service, transmission fluid flushes, oil changes, auto part inspection and replacement, and much more. We focus on providing excellent service and value for all of your vehicle's needs.
---
At Highway Tire Auto & Lube, we offer high-quality wheel alignment services to residents of Mooresville, Denver, Sherrills Ford, Lake Norman, Terrell, and Lincolnton, North Carolina.