If you're looking for a place to get your oil changed in Mooresville, NC, come and take advantage of our oil change service.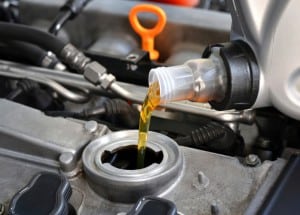 Changing the oil in your car is one of the most important things you can do for your vehicle. When you come and see us at Highway Tire Auto & Lube to take advantage of our oil change service, we will drain out all of the old motor oil in your engine. Then, we will replace it with new, fresh oil. We will also replace the oil filter in your car.
Typically, we recommend coming in to have your oil changed every time you drive a few thousand miles or after a few months passes. However, how often you need to change your vehicle's oil can depend on many different factors. For example, you may need to come in to our shop for an oil change service more often if you:
Drive a car with an old engine that burns oil at a considerably high rate
Transport heavy items in the back of your car on a regular basis
Frequently drive on dirt roads
Under the hood of your car, your engine's oil serves many different purposes. If you don't make changing it a priority, your engine may not last as long as it could.
We are committed to making sure that getting your oil changed in the Mooresville, North Carolina area is a quick and easy process. Give us a call at Highway Tire Auto & Lube today to find out more about our oil change service and why changing your car's oil is such an important maintenance task.
---
At Highway Tire Auto & Lube, we offer high-quality oil change services to residents of Mooresville, Denver, Sherrills Ford, Lake Norman, Terrell, and Lincolnton, North Carolina.