Our auto repair shop serves the Mooresville, NC area and is known for its customer service.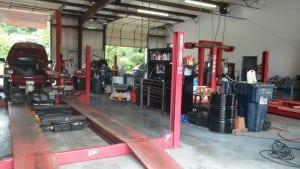 At Highway Tire Auto & Lube, our auto repair shop is the only place you need to turn for all of your vehicle's repair needs. Whether you're dealing with a broken transmission, a faulty engine, or your alternator needs to be replaced, we'll get your car back up and running in no time.
Our ability to take care of most repair issues in an efficient manner isn't the only reason why you should bring your car into our auto repair shop. We are also a family owned and operated business that truly values your time and your patronage. We take pride in the level of personal service we provide and the fact that we're known for it throughout the Mooresville, North Carolina area.
We realize what a pain it can be to go without a working vehicle for any period of time. For this reason, we offer pick-up and delivery services at our auto repair shop. This means that we can give you a ride home from our shop after you bring your car in or even pick up and drop off your vehicle if needed.
Types of Work We Do at Our Auto Repair Shop
At Highway Tire Auto & Lube, we know there are many components between the front and rear bumper of your car, and you may be wondering just which of them we are equipped to work on here at our auto repair shop. The reality is that we really do have you covered for almost all the maintenance and repair concerns you might have, but we'll outline a few just to give you an idea of what we can do for you.
Auto Detailing– Repairs don't always have to be mechanical in nature. If your vehicle's body is hiding somewhere under some road grime, splatted bugs, winter sludge, or pollen, our detailing services can bring it back to life.
Brake Repair– Knowing your vehicle will go down the road is important, but even more important is knowing it will stop when you need it too. With regular brake service, you can have peace of mind that you won't have a brake-related accident.
Transmissions– We offer transmission service and transmission repair. It might surprise you how early in your vehicle's lifespan a transmission problem can surface, especially without maintenance.
Engine Repair- With proper care, today's car and truck engines can last upwards of 200,000 to 300,000 miles with only occasional repairs possibly needed.
Wheel Alignment– Get the longest life from your tires by keeping up with wheel alignment.
Tire Installation– You will find we carry a wide selection of tires, including all-purpose and trail tires, seasonal tires, and high-performance tires, all expertly installed.
At this point, you may be thinking that the rates we charge at our auto repair shop will be unaffordable. However, at Highway Tire Auto & Lube, we strive to keep our prices low and competitive. If you'd like to know more about the different services we provide or you need to schedule a time for service, please don't hesitate to reach out to us.
---
At Highway Tire Auto & Lube, our auto repair shop proudly serves residents of Mooresville, Denver, Lake Norman, Sherrills Ford, Lake Norman, Terrell, and Lincolnton, North Carolina.