Our auto repair shop serves the Mooresville, NC area and is known for its customer service.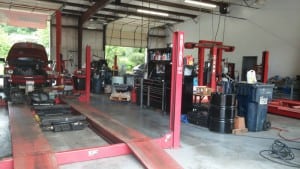 At Highway Tire Auto & Lube, our auto repair shop is the only place you need to turn for all of your vehicle's repair needs. Whether you're dealing with a broken transmission, a faulty engine, or your alternator needs to be replaced, we'll get your car back up and running in no time.
Our ability to take care of most repair issues in an efficient manner isn't the only reason why you should bring your car into our auto repair shop. We are also a family owned and operated business that truly values your time and your patronage. We take pride in the level of personal service we provide and the fact that we're known for it throughout the Mooresville, North Carolina area.
We realize what a pain it can be to go without a working vehicle for any period of time. For this reason, we offer pick-up and delivery services at our auto repair shop. This means that we can give you a ride home from our shop after you bring your car in or even pick up and drop off your vehicle if needed.
At this point, you may be thinking that the rates we charge at our auto repair shop will be unaffordable. However, at Highway Tire Auto & Lube, we strive to keep our prices low and competitive. If you'd like to know more about the different services we provide or you need to schedule a time for service, please don't hesitate to reach out to us.
---
At Highway Tire Auto & Lube, our auto repair shop proudly serves residents of Mooresville, Denver, Sherrills Ford, Terrell, and Lincolnton, North Carolina.