Our car mechanics offer a wide array of automotive services for Lincolnton, NC residents, including maintenance, tires, brake repair, and more.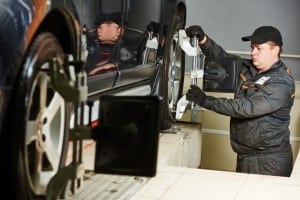 Nothing is worse than going to a car mechanic for an oil change and getting told you need a long list of other things. It is further aggravating when the car mechanic is pushy and makes you feel that if you don't do everything on the list right then and there, the wheels are going to fall off, the car will die on the side of the road at any moment, and the world as we know it will end. Okay, perhaps that is a bit of an exaggeration, but most of us have experienced something similar to this scenario at one point or another. If you haven't, then you must have been coming to Highway Tire Auto & Lube for the past 15+ years, because that is not how our car mechanics do things.
It is always our goal to treat our customers with excellence and respect. We can't be intimidating you and pressuring you to spend money and expect you to feel at home with us. That's not the way we want to run our family-owned and operated business. We offer a wide array of automotive services, including maintenance, tires, brake repair, transmission service, AC repair, wheel alignments and more.
When you come in for an oil change or any kind of service, your car mechanic will inspect your vehicle and offer recommendations for anything noted. We'll go over what things are not as they should be and let you know the severity of each, so you can determine which, if any, of the items you wish to proceed with. No pressure, just facts.
If this sounds like the car mechanic you've been looking for, give us a chance to show you our many other fine traits, as well. We care about the Lincolnton, NC area and it shows!
---
At Highway Tire Auto & Lube, our car mechanics proudly serve residents of Sherrills Ford, Lake Norman, Mooresville, Denver, Terrell, and Lincolnton, North Carolina.