Shopping for automobile tires in Denver is easy when you visit us at Highway Tire Auto & Lube.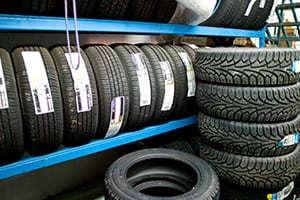 Although your car might have several of the latest safety features, one of the most critical safety systems is what connects the vehicle with the road. Even if you have automatic braking or adaptive cruise control, your car won't be nearly as safe if the tires aren't able to grip the road and help maintain traction. Worn-out tires can cause your car to slide in poor road conditions, such as snow, ice, or rain, which can lead to an accident. When you don't maintain your automobile tires, you're at a higher risk to experience a blowout while you're driving, potentially causing you to lose control of the vehicle.
Instead of putting yourself, your passengers, and others around you on the road at risk, it's important to keep an eye on your automobile tires and change them regularly. Some of the most concerning warning signs of tire trouble include uneven wear, bulging spots, and anything protruding from the sidewalls. When you fuel up, do the penny trick: stick a penny, upside down between two of the lines of tread. If you can see President Lincoln's hat, the tread is getting a bit worn, and the tires should be replaced.
Shopping for automobile tires in Denver, North Carolina is easy when you visit us at Highway Tire Auto & Lube. We have a wide selection of options for all types of automobiles, including cars, trucks, minivans, and SUVs. You can find the size you need at a reasonable price, ensuring that your car can help keep you safer when you're on the road.
---
At Highway Tire Auto & Lube, we sell automobile tires to residents of Mooresville, Denver, Sherrills Ford, Terrell, Lake Norman, and Lincolnton, North Carolina.