We offer shuttle service to get you to where to you need to go in the Mooresville area.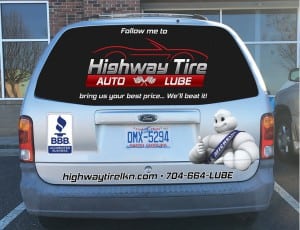 When you put the key in the ignition, you expect your car to turn on and work properly so you can get to work, school, run your errands, or accomplish any other tasks you have planned for the day. So when it doesn't work as expected, or something just doesn't feel right as you are driving around, this can cause a lot of frustration as you try to run through your options. You could try to reschedule the items you had planned for the day, which will put you behind schedule. If you are trying to get to work, you could miss out on hours, get in trouble with your boss, and even put your career in jeopardy.
Many auto repair shops require you to sit and wait for the repair to be finished, but at Highway Tire Auto & Lube, we take a different approach. We offer shuttle service to get you where to you need to go in the Mooresville, North Carolina area. Our shop is a full-service repair facility, and our technicians specialize in oil changes, tire replacement, tire balancing and rotation, brake service, part replacement, and much more. We highly value the time of each of our customers, which is why we offer fast and efficient shuttle service. You never have to sacrifice quality when you bring your car in to us.
Our shuttle service also makes it easier to get back home or to work, instead of missing out on time you could spend doing more valuable tasks. For more information about our shuttle service or our auto repair services, feel free to give us a call!
---
At Highway Tire Auto & Lube, we offer a shuttle service to residents of Mooresville, Denver, Sherrills Ford, Lake Norman, Terrell, and Lincolnton, North Carolina.