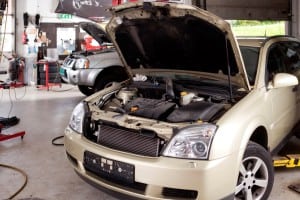 If the air conditioner in your car stops working, you will want to figure out what is causing the problem and get it fixed before summer hits. There are a few simple tests you can perform yourself to try to diagnose necessary vehicle air conditioning repairs.
First, turn the fan on the highest setting. If there is no air coming out of the vents, you may need a new A/C blower fan. If you feel air coming out of the vents, press the air conditioning or cooling button on the dashboard and listen for the sound of a fan from the radiator (usually underneath the hood). The cooling system relies on a fan within the radiator, so if you can't hear it running, the motor in the fan might have gone bad. If you can hear the fan, several more in-depth problems may be occurring in your vehicle. There is a compressor that must engage to provide cool air, so if you have experience with cars, you can check to see if it is spinning and engaging when you turn the air conditioning on and off.
If you can't see a problem with the compressor, check to make sure that power is going to the clutch. This is a common reason for vehicle air conditioning repairs, and often requires clutch replacement. If none of these tests show problems within parts of the car, you may want to take it into an experienced auto repair shop, where technicians can run advanced tests to determine necessary steps for vehicle air conditioning repairs.
For vehicle air conditioning repairs in Mooresville, North Carolina, visit us at Highway Tire Service & Collision.