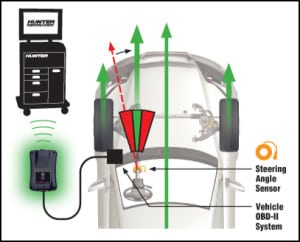 Highway Tire Service & Collision, a family owned automotive service center in Terrell, NC, uses the latest in automotive technology in order to provide our customers with the highest quality service.
The team at Highway Tire uses Hunter's patented CodeLink® steering angle sensor reset tool. CodeLink recalibrates the steering angle sensor (SAS) to match the final alignment angles of the vehicle (as required by the OEM) to complete an alignment.
CodeLink is the perfect solution for the growing number of vehicles that require SAS reset. CodeLink wirelessly connects Hunter's WinAlign® alignment system to the vehicle OBD-II to recalibrate the SAS. The WinAlign system automatically alerts the technician if the vehicle requires SAS reset and provides simple on-screen instructions for using the CodeLink tool. The result is guaranteed precision with exact steering system sensor thresholds.