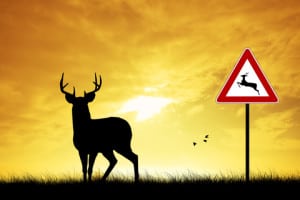 Deer are beautiful animals. Unfortunately, they can do a lot of damage to you and your vehicle if you hit one. The National Highway Traffic Safety Administration (NHTSA) estimates that there are 1.5 million car accidents involving deer every year in the United States.
October through December is mating season for deer, which means that they are moving more than usual as they search for other deer. Chances are, you will meet some of them as they cross the roadways you are traveling on.
We all want to avoid collisions with deer. Here are some helpful safety tips from the NHTSA and the North Carolina Highway Safety Research Center
Slow down. When you speed, you cannot stop or react as quickly. In addition, the impact of a collision is greater the faster you travel.
Pay attention to deer crossing signs–they were posted for a reason.
Scan the road as you drive, paying attention to the shoulders.
Use high beams when possible (allows you to see more of the road's shoulders).
Use extra caution at dawn and dusk, when many animals move the most.
If you see one animal cross the road, expect to see more. Deer often travel together. Young deer follow their mothers and bucks follow does.
Roads close to woods, fields, and streams are likely to experience more deer traffic.
If you see a deer on the road, slow down and try to stay in your lane. Many deer-related accidents occur when drivers veer into the opposite lane and strike another vehicle while trying to avoid the animal.
Wear your seatbelt and insist that every person in your vehicle does the same.
Remember to drive defensively. Highway Tire Service & Collision is a family owned automotive service center in Terrell, NC. Drive safe!
Drive Safely: Give Wildlife a "Brake"