We are a tire shop that focuses on giving good-quality tires and great service in Mooresville, NC.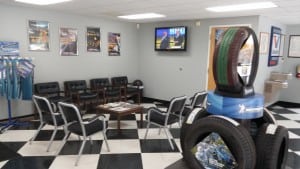 The tires on your car are very important to the overall safety of the vehicle. Old tires might lose their tread, which means they won't be able to grip the road in situations where you need to stop suddenly. Worn tires are also more likely to blow out, which is a safety hazard when you are driving. Tires typically wear unevenly, especially if your vehicle's alignment isn't perfect, which can lead to a hole or crack in the most worn out area.
While new tires might seem like a large expense, they are well worth the investment. A new set of tires drastically improves the safety of your car for up to 100,000 miles of driving. You can also shop for other styles and brands of tires that offer unique benefits that will improve the performance of the car. Worn out tires can decrease the gas mileage since the car has to work harder to provide power to turn the wheels and brake properly. Here in Mooresville, NC, the weather can turn wet and chilly overnight, so you will want to make sure your tires are in good condition to stop and go smoothly. At Highway Tire Auto & Lube, we are a full-service tire shop with all types of tires to fit many different cars.
Something that sets our tire shop apart from others is our focus on customer service. We won't try to sell you tires that don't work well with your vehicle or driving style, and we want to make sure you are happy with your purchase. If you need a new set, stop by our tire shop to check out the inventory.
---
At Highway Tire Auto & Lube, our tire shop proudly serves residents of Mooresville, Denver, Sherrills Ford, Terrell, and Lincolnton, North Carolina.