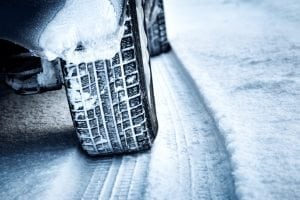 If you have all-season tires on your vehicle, there is a good chance you are feeling comfortable with your safety and vehicle performance, even as winter weather approaches. While it's true, most all-season tires are designed for optimal performance in a variety of weather conditions, it's not always the best to leave these types of tires on your vehicle during the winter months. Why? Here are a few reasons:
Traction is Key- When it comes to snow and ice, traction is the most important thing you can have while you are on the road. Winter tires use a softer rubber which enhances traction in wet-weather conditions, like snow and slush, and offers improved tire tread for better grip on the road.
Preserve Your Tire Life- Another great reason to go with winter tires is the fact that you can preserve the life of your all-season tires. While winter tires may seem like an investment up front, in truth, this small change to your vehicle can help you keep your preferred tires longer, preventing the need for replacements quite as often.
Safety & Performance- Finally, winter tires are key to the best possible safety and performance from your vehicle. Whether it's taking your kids to school on a frosty morning or making sure you can stop and start on the hill of your driveway, winter tires will give you confidence in all types of winter weather.
At Highway Tire Auto & Lube, we always encourage safe driving no matter what the weather looks like outside. We can recommend the best winter tires for your vehicle and show you what our quality service looks like for all of our customers. Stop by or call today to prepare for the colder weather, and ask about your next set of winter tires!