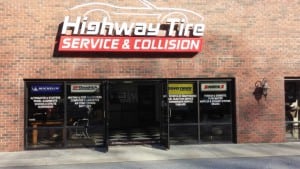 Our auto repair shop first opened its doors in September 2001. We are proud of the strong reputation we have built in the Mooresville community and the large number of families and individuals we have been able to help over the last 13 years.
Unfortunately, in our business, trust is a big issue. Many people are afraid to go to an auto repair shop to find out what's wrong with their vehicle because they are worried they will get taken advantage of—maybe the mechanic will tell them they need expensive repairs that aren't actually necessary, or they will get grossly overcharged for certain auto repair services. As a result, there are many unsafe cars on the roads today that could be made much safer with a simple visit to an auto repair shop.
We guarantee 100% honesty and integrity when you visit us at Highway Tire Service & Collision. You should be able to trust your mechanic completely, and that is one of the main principles we have built our business on.
Auto repair shops are an important part of each community. And at Highway Tire Service & Collision, we don't just fix cars—we truly care about you and your family. We understand how important it is for you to have a safe and reliable vehicle that you can use to get from point A to point B potentially dozens of times a day, and we know many of you have very tight budgets. That's why we're committed to serving you with the most professional and affordable auto repair services available in the Mooresville area.
We are a full-service auto repair shop and offer everything your car or truck could ever need, from brakes to tires to auto body repairs and more. Please contact us today if you have any questions about our services or if you'd like to schedule an appointment. We look forward to serving you and yours for the next 13 years and beyond!