When it comes to car repairs, there's hardly any issue we can't take care of in the Mooresville, NC area.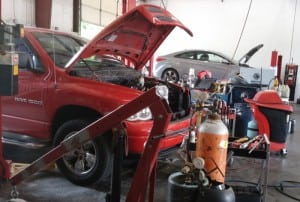 There are few things worse than getting ready for the day, going out to your car, and not being able to get your vehicle up and running. If this ever happens to you, let us at Highway Tire Auto & Lube help. We are a family owned and operated shop that does car repairs in the Mooresville, North Carolina area.
When it comes to car repairs, there's hardly any issue we can't take care of. For example, we fix engines, transmissions, air conditioners, brakes, and much, much more. Whatever's going on with your car, you can rest assured that we'll be able to restore its functionality.
Not only will we be able to fix your car, but we'll also be able to do it in an efficient manner. We realize that your time is valuable and that going without your vehicle, whether it's for a few hours or a few days, can be a pain.
We take pride in the fact that our auto repair shop is family owned and operated
Additionally, to help you avoid the need for extensive car repairs, we're here to provide you with maintenance services. Plus, if you aren't entirely sure what you need to do to keep your vehicle in good shape, we can provide you with recommendations.
The next time you need to get your car looked at, remember that you really can't go wrong letting our team at Highway Tire & Lube take care of all of your repair needs. If you'd like to know more about the types of car repairs we do or if you want to schedule an appointment, give us a call.
---
At Highway Tire Auto & Lube, we offer high-quality car repairs to residents of Mooresville, Denver, Sherrills Ford, Terrell, and Lincolnton, North Carolina.